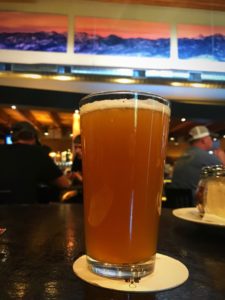 There is often a connection between good craft beer and the environment. It can be supporting causes, reducing energy and water, or waste reduction through recycling and composting. For Bridger Brewing in Bozeman, MT it began with an environmental professional who turned his passion for good beer into a great brewery. But that wasn't the first or even second thing that attracted me to their brew pub near the campus of Montana State University.
The first thing that drew me here was their name. One of my dogs is named Bridger, so I have a fondness for all things Bridger. The second was their beer. It's excellent. Then, upon reading the Our Story section on the Brewery website, I learned that co-founder, David Breck, was an environmental engineer. This is just the type of story I want to know more about – a brewery with a good name started by a former environmental engineer.
I met with David Breck at his brewery and restaurant to talk about his work as an environmental engineer, brewing, creating a community through the brewery, the art on their beers, Bridger Brewing's first visit to the Great American Beer Fest, and their expansion plans.
David's Work as an Environmental Engineer
My environmental work was kind of niche environmental work. I graduated with this engineering degree and then, now what? I bounced around and didn't find anything that I was really passionate about. So I found out about AmeriCorps. I found this guy that was doing salmon habitat restoration in a little town, Goldendale, WA. It was working on different streams to keep sediment out of these tributaries to the Columbia River to help support salmon habitat. I didn't really know a lot about it, but they needed engineers.
We did a lot of fencing off of tributary streams from cattle. Cattle can get into small tributaries and they stomp down the banks of the creek. They eat the woody vegetation. Pretty soon you have a lot of erosion going on. That erosion fills in your riffle beds and the salmon have a hard time spanning in those. We would go in and do landscaping, terracing, create log check dams to keep the sediment out of the streams.
I was learning how I could use my science, my engineering background in habitat enhancement. I decided to go back to graduate school to learn more about it. I did my graduate degree (Montana State University) on a bank stabilization project.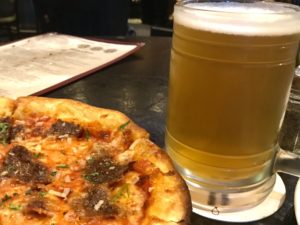 Passion for Brewing over Environmental Engineer
It sounds like your home brewing started to pull your passion away from your engineering work toward beer.
They coincided for a while. I started home brewing. It was one of those things that sparked me. A little like the habitat work did. I thought, alright, I'm an engineer, what can I do? The first time I made beer with my brother, I liked beer at the time. I didn't love beer. But I loved the process of making the beer. It's a little bit of cooking, a little bit of science, a little bit of chemistry.
I started getting a passion for it and delved deep into the home brewing.
I actually got a job at different breweries while I was getting my graduate degree. Even when I started my first consulting company, I was still working at the old Spanish Peaks Brewing Company that was here in town. I started getting more and more into it. And I wanted to try the next thing.
Building Community with Bridger Brewing
Bridger Brewing hosts Pints with Purpose every Monday night. They donate $1 for each pint sold to a local charity. Is creating a community part of your interest and passion toward the brewery?
Absolutely. You can get your name out and contribute at the same time. Bozeman is such a great community already. There's so many nonprofits, people trying to do positive things in the community. It was very easy for us to support those. We have a line out the door trying to get on the list every Monday. We're booking out 9 months in advance for a different nonprofits to get on that list. Then you meet these different people who come in to support that nonprofit. They tell their story why they got involved, why it's important to them. Some are environmental reasons, some are helping kids.
I feel so much more attached to my community through that.
You'll notice there's not very many TVs in here. 2 TVs behind the bar and that's it. I almost had trouble doing that. We didn't want people staring at TVs the whole time. We want people talking to each other. It works. This is kind of a place to meet. It builds more of that communication.
Beer Art
I really like the beer art. Is that from a local artist?
It's actually a good friend of mine, Wilson Raska, A Thousand Arms here in town. He started out doing art work for heavy metal bands. He takes a lot of different elements and layers them over each other to create that art work. The first one he did for us was the Vigilante with the pistols and the skull.
He actually just did another one for us. We do 3 outdoor concerts in our a parking lot each summer. We have a reggae band coming up called SOJA. So we're doing a special beer release for that. The JAH IPA. It's an acronym for juicy and hazy. It is a New England style.
The Great American Beer Festival
The Great American Beer Fest is the premier U.S. beer festival and competition. Over 800 breweries and 4,000 beers will compete in Denver, Sep 20-22, 2018. 
I think we're bringing the Bobcat Brown Ale. I'm pretty sure we're bringing the Antilogy Black IPA, Ghost Town Coffee Stout, and it might be Mad Mile Cream Ale. I've got a feeling that thing could do well for us.
We don't know where the Mad Mile fits exactly. Is it a fruit beer, a vegetable beer? Is it a cream ale? We entered it at the NABA in the vegetable beer. It did well. It got through a few rounds.
Environmental aspects of expanding to a new pub and canning facility
Right now, we don't package at all. We're looking at a production facility outside of town. We got some land out in Three Forks. We already have 2 grants for solar out there. We're going to do a water treatment facility that treats down to potable water standards. So we're going to recycle that water for irrigation. We're working with a hop farmer here in town, Crooked Yard Hops. He's going to come out to that property for some more hops.
Hopefully it will be open by the end of next summer (2019).
Thanks, David, Cheers.
Have you been to Bridger Brewing? If you're from Bozeman or in town, stop in for a pint and some food. I really enjoyed the bison pepperoni pizza, the Lee Metcalf Pale Ale, and the Hyalite APA. Although I haven't tried them all.
Maybe you're reading this right now over a pint of Vigilante IPA or going to GAFB. If so, say hi to David and the staff and let them know what you think of the beer. Cheers.